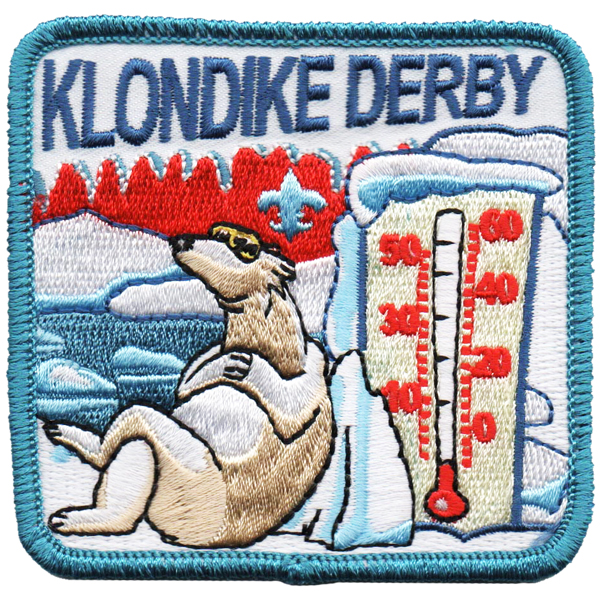 The Klondike Derby is an annual tradition that is put on to give Scouts the chance to demonstrate the skills and knowledge they have learned through their Scouting experience.  This even occurs over a winter weekend and consists of three events; Webelos Klondike Derby; Boy Scout Klondike Derby; and Iron Will for Boy Scouts who are 14 and met First Class requirements and Venturers.
Since we are looking forward to Snow, Snow, Snow and more Snow, BE PREPARED!!! It is unlikely that the Klondike Derby will be canceled or postponed due to weather conditions. However, if a decision is made to cancel or modify the event, announcements will be made on local radio stations.
The Webelos Klondike Derby is not an overnight event so no camping will be required of your Scout.  Following is the proposed schedule for this year's event.
SATURDAY, MARCH 6, 2021 
8:30-9:00 a.m. Mayors/Volunteers meeting on Porch of Dining Hall 

8:30-9:30 a.m. Webelos registration at Camp Office 

9:30-9:45 a.m. PATROL SLED & FLAG JUDGING in front of Dining Pavilion 

9:45-10:00 a.m. Opening assembly in front of Dining Pavilion 

10:00-12:00 a.m. Klondike Derby activities/stations for all dens  

12:00-1:00 p.m. You are encouraged to eat your lunch during this time, wherever you are 

12:00-2:45 p.m. Klondike Derby activities/stations for all dens 

2:30-3:00 p.m. Stations closed; trading post will be open & warm-up for participants if necessary 

3:00-3:30 p.m. Closing assembly, awards presentation in front of the Dining Hall 

3:30-5:00 p.m. Depart camp unless staying to watch scout activities and awards 

**The Klondike Derby is officially over at 5:00 P.M. 
REGISTRATION
The registration fee includes: One patch, Saturday lunch, and a great time!  

The registration fee for Scout or Adult is $15.00. (ie. Scout + Adult = $30.00)

This charge will be made to your Scout's account and is non-refundable.

The Pack will be registering on Wednesday, February 24th @ 5PM.  
WHAT TO EXPECT
PARKING: Primary parking areas are the main parking lot and the staff parking lot. Parking is not permitted along North Camp Road or any other road or trail. There is a possibility that piles of snow in the lots may reduce parking considerably, therefore it is suggested that units travel to and from Camp Mack in the least number of vehicles. Please carpool! *** ANY VEHICLE BLOCKING ACCESS TO A ROAD OR TRAIL WILL BE TOWED AT THE OWNER'S EXPENSE. ***



MEALS: 

Following COVID guidelines,

 

a bagged lunch containing a turkey sandwich, chips, drink, and other items will be provided to all participants. Each Leader will get a set of tickets for their attendees that they will use to collect all of the Patrol's lunches.  There will not be a designated lunch time or place.  
REQUIRED CLOTHING:  The scout uniform is not needed for the Klondike Derby. Wear suitable undergarments for the weather, along with the appropriate layering system of outer winter protective clothing. It is highly recommended that participants carry along at least one extra pair of dry socks for a quick change on the trail. These should be carried in a zip lock bag or another waterproof container. Also recommended is a wool hat and gloves. 
A poncho or rain suit is also highly recommended. Scouters and scouts who are found on the trail without the
appropriate clothing will be escorted to a warm up station where they will remain for the rest of the event.
***SNEAKERS MAY NOT BE WORN UNDER ANY CIRCUMSTANCE FOR THIS EVENT! NOT
SCOUTS, NOT LEADERS, NOT ANYONE!*** 
(VIOLATORS OF THIS RULE WILL HAVE TO REMAIN IN THE LODGE UNTIL SOMEONE CAN TAKE THEM HOME.)
STATIONS: The Scouts will be rotated through no less than eight (8) stations that will test their ability to work as a Patrol and demonstrate their skills as a Scout.  Working as a unit and showing Scout spirit are the key to earning high points at each station.  Each Scout that attends is encouraged to serve as the Patrol Leader for at least one station.  This is a good chance to exercise Leadership skills and for other Scouts to learn how to follow a Leader to achieve a common objective.
For more information, reference the following event packet:
The following subpage is a great resource for Den Leaders and Scout Parents on skills and elements a Scout can practice at-home before the event.